Circular Economy

|
Report

|
AEC Industry
The recently released report, "Unlocking the Power of the Circular Economy in the Australian AEC Industry," marks a collaborative effort between Deakin University, Edge Impact, and Planet Ark's ACE Hub. This pioneering report delves into the current state of the Australian Architecture, Engineering, and Construction (AEC) industry in terms of circular economy (CE) adoption. Offering valuable insights and recommendations, the report sheds light on the challenges and opportunities surrounding CE implementation in the AEC sector. By combining research, surveys, and interviews with key stakeholders, this comprehensive report serves as a catalyst for change, urging all participants in the AEC industry to embrace a circular mindset and drive the transformative power of CE to achieve a sustainable future.
The Run-Down
Applying circular economy (CE) principles into the Australian Architecture, Engineering and Construction (AEC) industry is not a new concept. The AEC industry provides a great example to other industries on introducing CE, with its well-established ratings schemes (Green Star, ISCA, NABERS to name a few) that incorporate CE outcomes. However, the maturity of CE concepts incorporated into AEC activities, and breadth of inclusion across stakeholders is still well below a 'business-as-usual' status.
Why is this the case though? When so much time, money, and effort is being invested in improving the outcomes of the AEC industry, be it CE-specifically, broader environmental targets, or general business efficiency, where addressing resource inefficiencies is so closely tied to the CE?
Through research based on surveys and interviews with AEC industry stakeholders on their perceptions on CE and its adoption in the Australian AEC industry, its awareness of CE that presents the strongest correlation to CE adoption.
With awareness presenting as the primary factor to enacting change, it draws light on a potential tunnel-vision approach to CE efforts to date.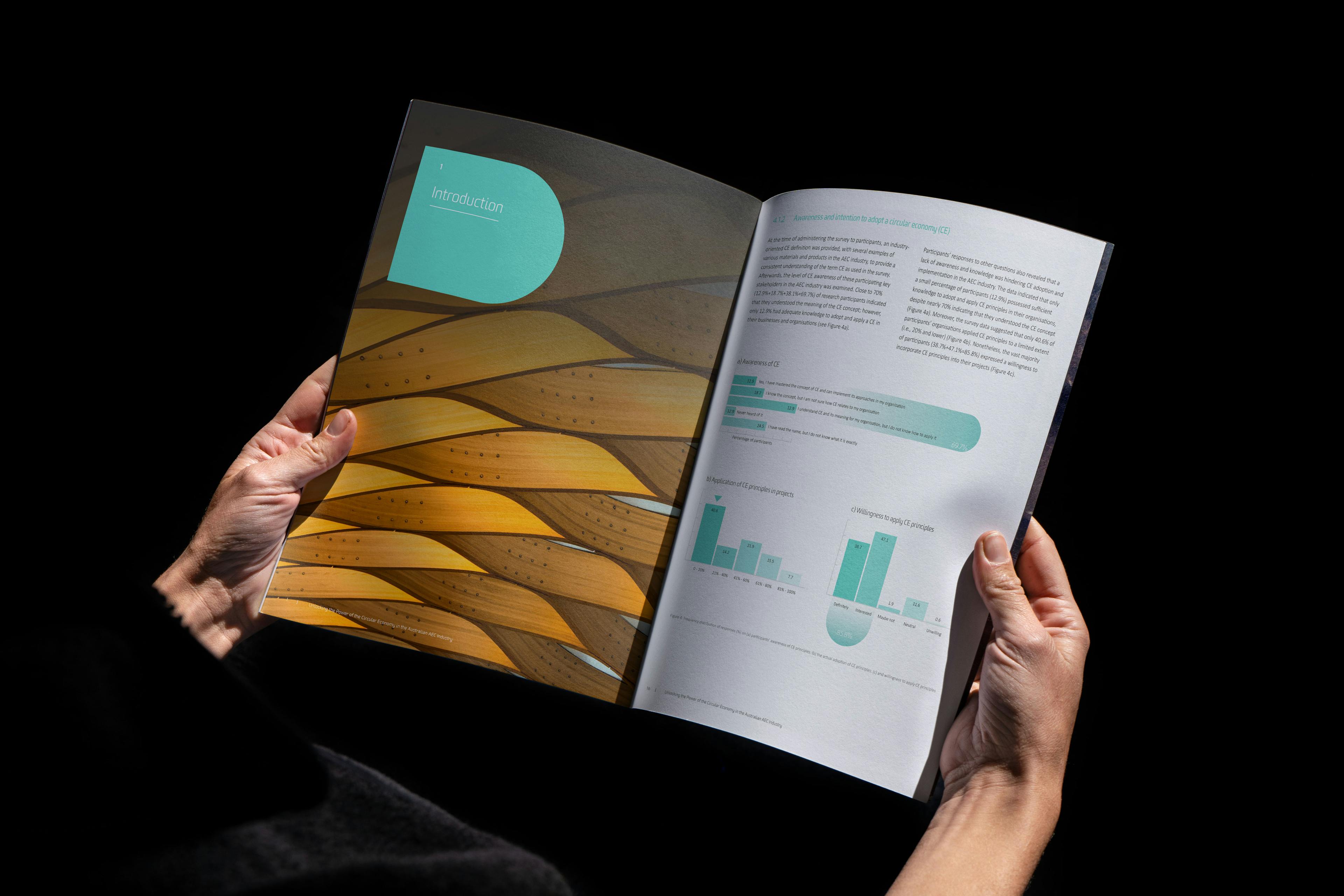 Despite our best efforts, it appears we may have inadvertently taken a one-track approach to action, engaging certain stakeholders, and creating change only at certain scales of influence.
True transition to CE requires changes across various disciplines, supply chain boundaries and levels of maturity in the transition.
We need to stop thinking about ourselves and start designing action that reaches those who don't know, don't care, or need support to instigate action in their sphere of influence.
So how do we propose acting on this?
Using the three levers of science, strategy, and storytelling, we see 6 key opportunities for change:
Expand awareness,
Build capacity across the entire value chain,
Develop indicators for measuring success,
Advocate for and develop supporting policy,
Establish incentives that support policies, and
Drive behaviour change by shifting the view on business-as-usual.
Importantly, there is a tangible role for each type of stakeholder in realising these recommendations. These recommendations should be enacted by all key players in the AEC industry, including government bodies, industry associations, industry project management teams and universities. This approach combines 'top-down' and 'bottom-up' actions to effectively realise a circular approach to widespread and systemic CE adoption in the industry.
So, what is your role in the AEC industry, and how can you drive change?