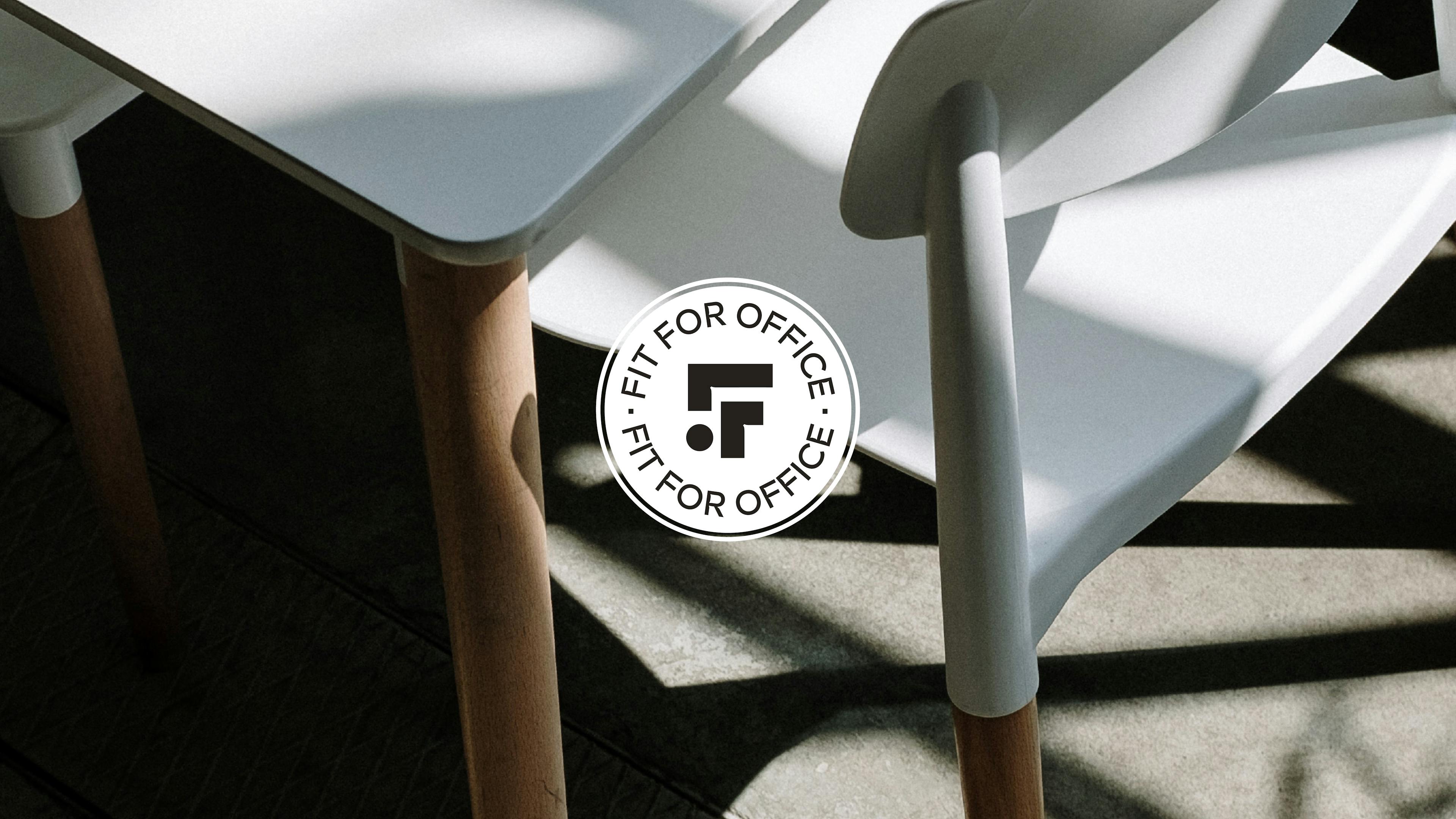 Addressing Australia's largest problem waste stream: Commercial Furniture
Client
Department of Industry, Science and Resources
Services
Sustainable Buildings and Precincts
Human Rights and Anti-Modern Slavery
Leadership & Transformation
Nature & Biodiversity
The Challenge
We were asked to be a part of an industry initiative that sought to address the pressing challenge of the commercial office furniture predicament, where a staggering 35,000 tonnes of office furniture are discarded annually in Australian capital cities alone.
Despite existing recovery options, a significant portion of furniture still ends up in landfills. FFO aims to revolutionise this unsustainable practice by establishing a product stewardship scheme that promotes reuse and recycling, diverting furniture from landfills and creating a more environmentally responsible approach to office furniture disposal.
By providing a nationally accessible solution and industry-led initiative, FFO strives to mitigate the environmental consequences of discarded office furniture and drive a sustainable future.
Technical analysis to assist decision making

Furniture manufacturer onboarding & stakeholder/industry engagement

Implementation plan

Visual Identity & Marketing Collateral
Technical analysis to assist decision making
Furniture manufacturer onboarding & stakeholder/industry engagement
Implementation plan
Visual Identity & Marketing Collateral
Fit for Office (FFO) is a transformative stewardship scheme that addresses the challenges of the linear economy and embraces the opportunities presented by the circular economy, by inspiring economic and environmental feasibility and extended producer responsibility solutions across a diverse range of products.
Over the course of the 2 year project, a collaborative approach was adopted, focusing on co-design and options assessment. To establish an industry-led and co-designed product stewardship scheme, the process involved active participation from key working group members and stakeholders to assess three key stewardship models and their suitability for the industry.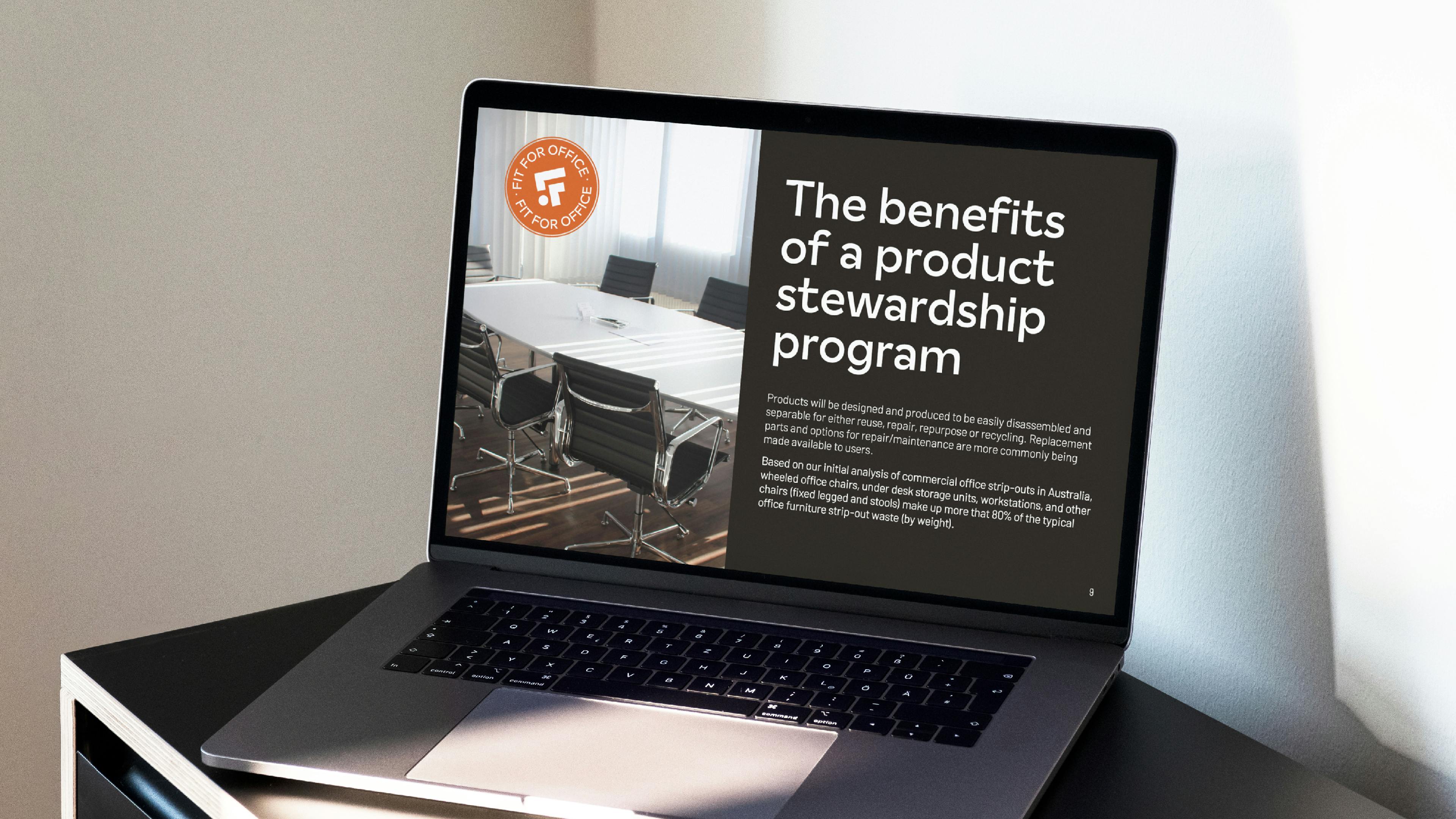 The scheme designs were thoroughly evaluated, considering factors such as complexity, structure, economic costs, environmental impacts, and industry-specific needs. The three options included:
A national recycling scheme,
A national re-use scheme, and
Product stewardship register with asset tracking
Through a series of dedicated scheme design workshops, stakeholders worked together to refine and prioritise the options based on their potential for feasibility and high-impact environmental outcomes.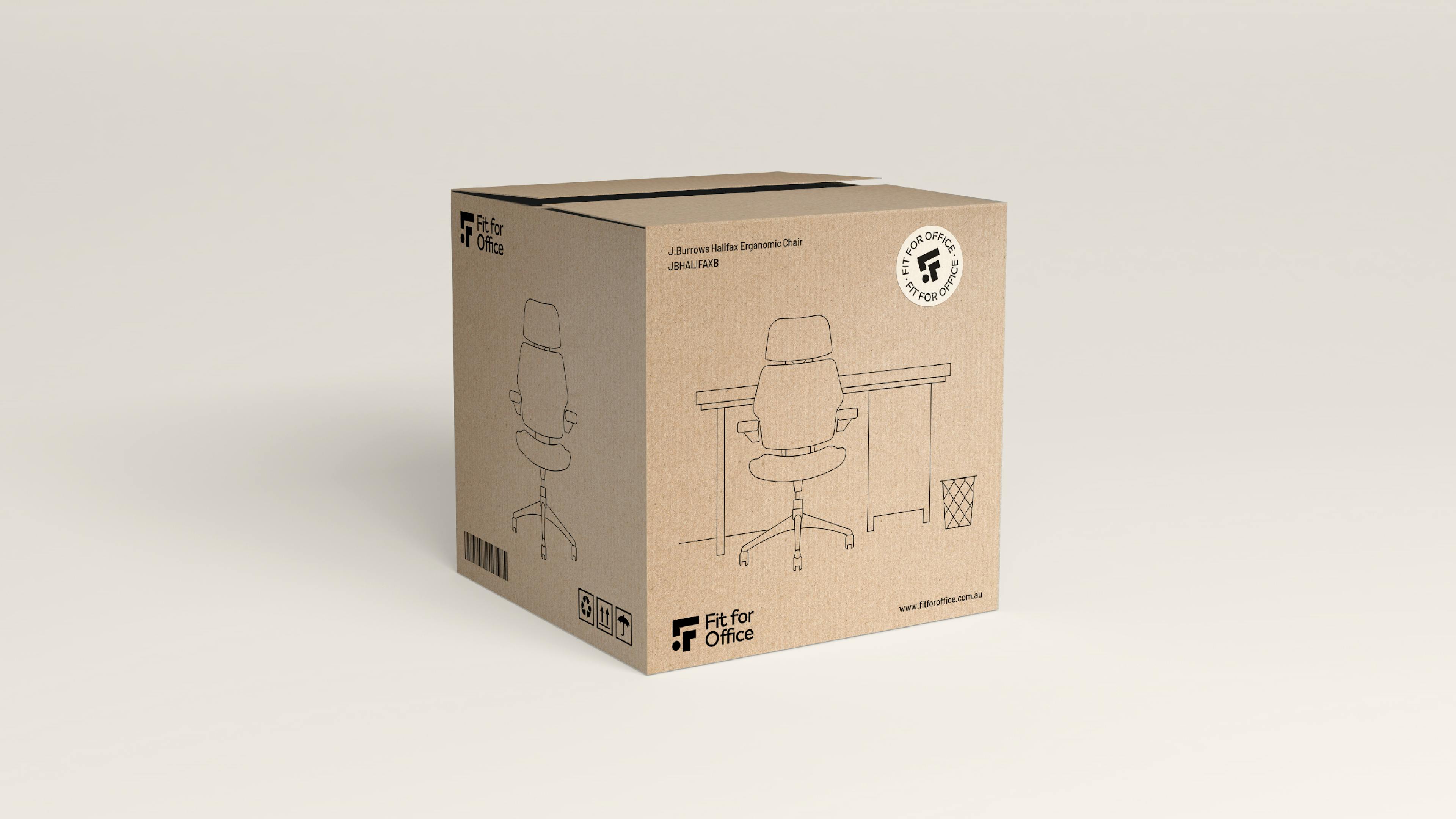 This approach ensured that the selected scheme would be tailored to meet industry requirements, drive positive change, and account for sustainability, feasibility, and the unique characteristics of different sectors.
In addition to the design of the scheme, we developed a visual identity and go to market approach for FFO. Drawing inspiration from the modularity and circularity we want to achieve with office furniture, the identity aims to engage its target audience whilst maintaining an elevated sense of legitimacy as a government-partnered initiative.
We used the brand to engage stakeholders and consider their perspectives, to develop a product stewardship scheme that could be effective, inclusive, and responsive to industry challenges and opportunities.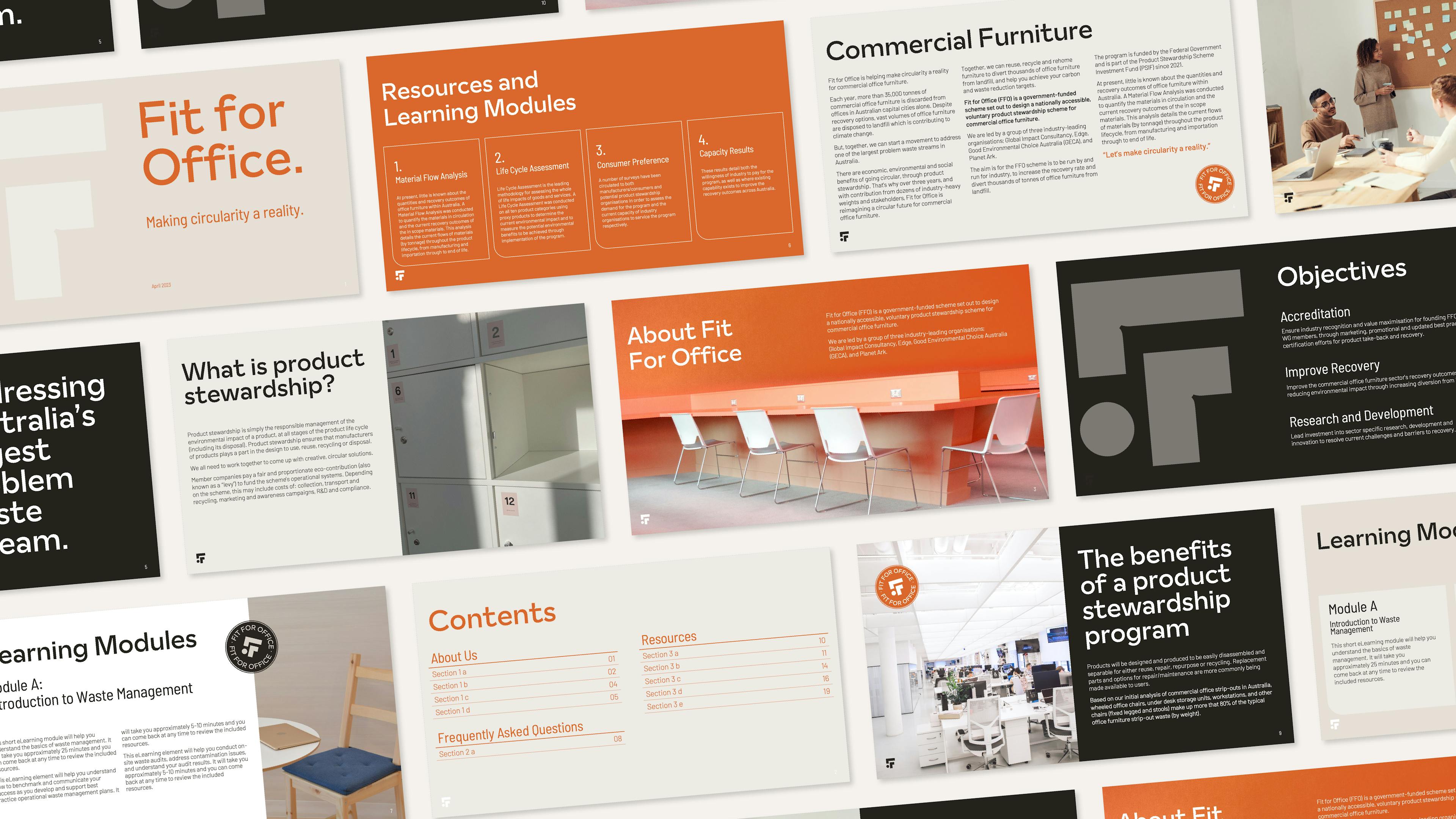 The Result
FFO was created to to lead the transition to a circular economy in the commercial property sector. The scheme prioritises waste pollution reduction by discouraging new furniture procurement when reusable alternatives are available by emphasising optimised product and material circulation at their highest value.
FFO uses data-driven insights to identify waste areas and implement targeted interventions for efficient and environmentally responsible office furniture management.
The product stewardship register and asset tracking scheme we created helps streamline processes, standardise decision-making, and prioritise reuse, repair, and remanufacture. This will enhance asset tracking and enable timely notifications for maintenance or returns.
The FFO visual identity reflects the scheme's ability to grant flexibility and adaptability to office furniture waste. It provides a streamlined, elevated platform to engage with suppliers, manufactures and asset managers to give them the information and support they need across the different touch-points and collateral.
Through the FFO platform; commercial office furniture suppliers and their customers can easily manage and track asset whereabouts, condition, and recovery/recycling options, receiving prompt notifications for necessary care.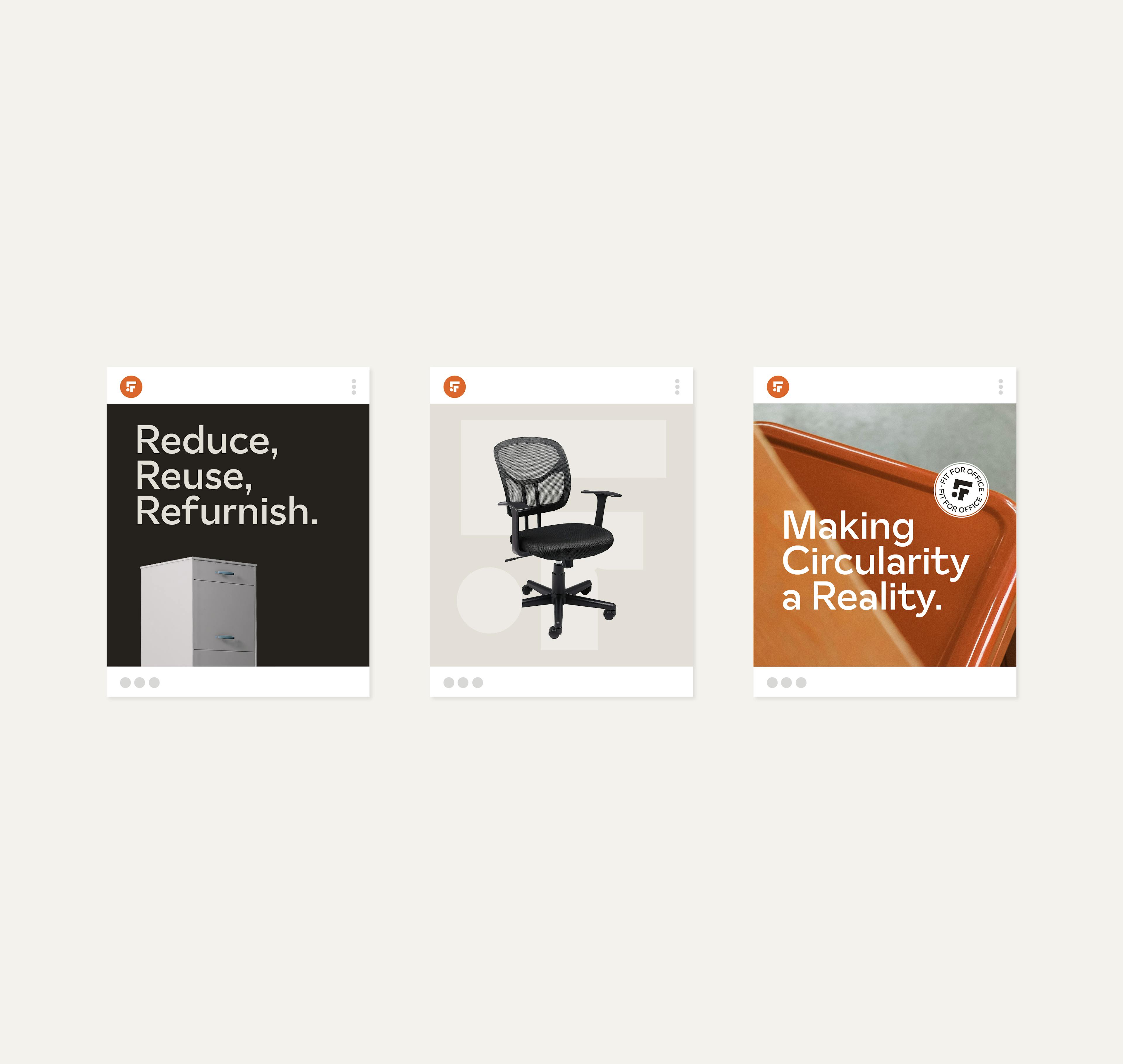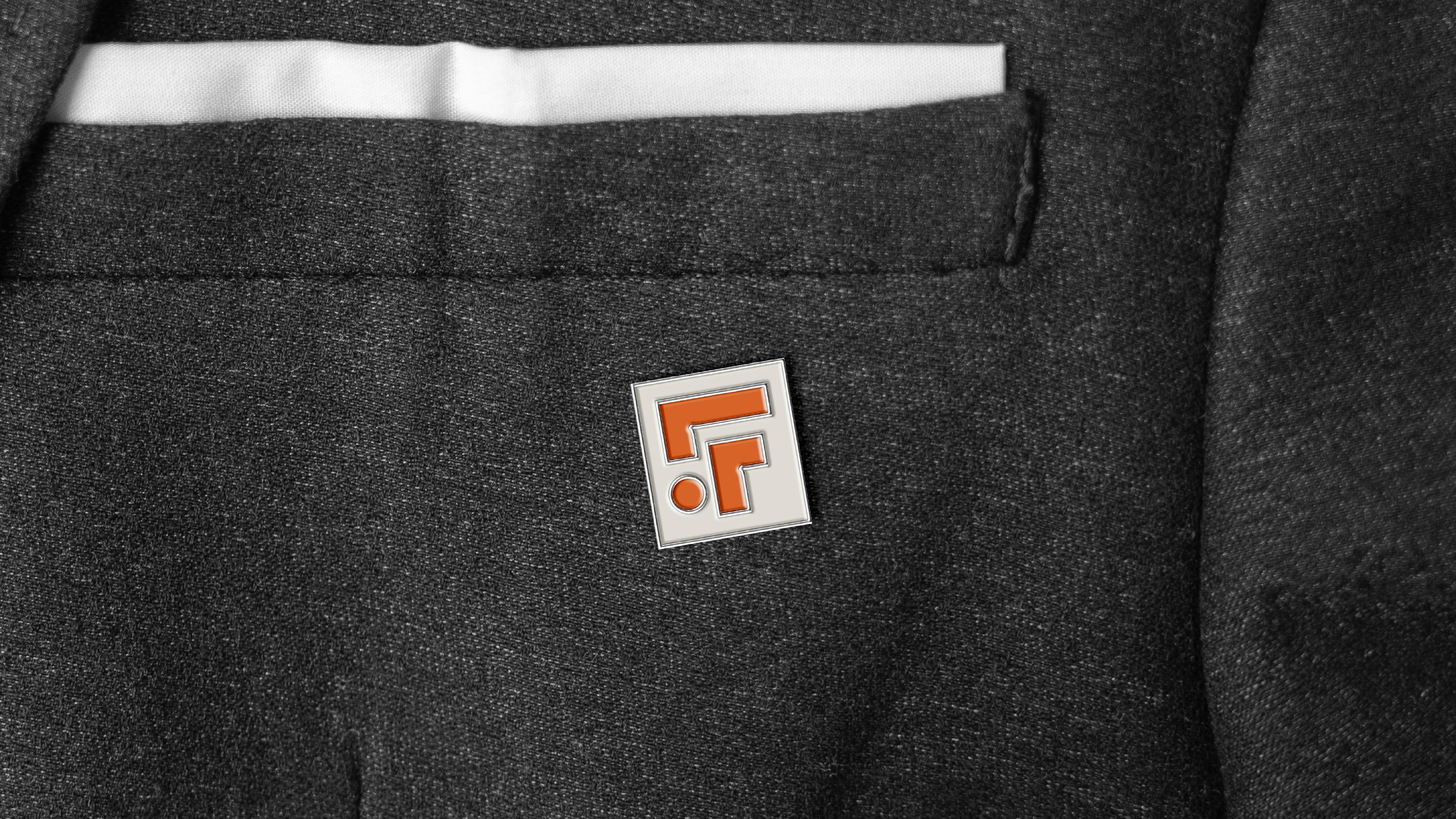 This benefits office furniture product-as-a-service (PAAS) models, ensuring accurate tracking and efficient lifecycle management, particularly during tenancy "make-good" processes.
FFO also provides comprehensive support to the commercial property sector, including training, upskilling, and tools for furniture recovery cost forecasting and planning. Then, through collaboration with technology providers the FFO platform aims to showcase data-led circularity, fostering knowledge sharing within the furniture recovery ecosystem.
We would like to express our deepest appreciation and heartfelt gratitude to the founding partners of the Fit for Office product stewardship scheme. Their visionary leadership and unwavering commitment to the design and activation of the scheme have been instrumental in making this initiative a reality. Without their invaluable contribution, this transformative project would not have been possible.
Our founding members:
Klaro Industrial Design - Alona Klaro
Aspect Furniture - Andy McCulloch
Maxton Fox - Belinda Hall
Sturdy Framac - Brad Denny
Living Edge - Guy Walsh
Planex - Karina Clarke
Koskela - Sasha Titchkosky
Lloyd Parker,
Manager - Circular Economy